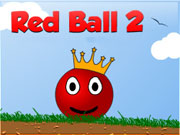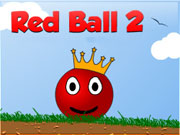 Finally, your favorite hero, the Red ball, is back in Red Ball 2. What happened in this third installment? Sadly, his girlfriend has been kidnapped by the Black ball. Help Red to rescue her now!
Can't accept the fact that Red and Pink are in love with each other, the wicked Black decided to trap Pink in his place. As soon as entering the playing field, you need to assist Red in saving his lover. Expose your abilities to cope with a total of 26 challenging yet interesting levels in this game. In each stage, control the ball (by using your logic) to get through various obstacles, like water, blocks, spikes, etc., and reach the finish point. Take full advantage of all the objects on the way, such as wood, wooden boxes, and more, to accomplish the missions easily. Avoid falling off the platforms or Red has to start again from the beginning.
Go to Red Ball 2 and give the Red ball a supportive hand to bring his lover back. Hope you succeed and good luck!
How to Play
Control the arrows to move and jump.
Popular Searches: