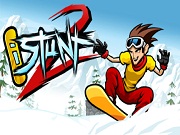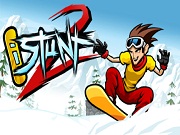 Are you ready to hit the slopes in the most extreme snowboarding game called Istunt 2, fellows? Combining outstanding physics, responsive controls, and beautiful graphics, you can't waste a good chance playing it.
Developed by Miniclip, this addictive physics-based snowboarding game is all about tricks and big air. What you need to do here includes – hitting the slopes, performing awesome mid-air flips and stunts, as well as snowboarding downhill. You will be given a boarder to ride in a series of anything-but-the-real-world conditions. Start riding on the snowy mountains and do brilliant tricks along the way to score points. Remember to keep your balance through gravity shifts and speed boosts. Collecting all of the stars on the way and avoiding obstacles that stands in your way are pretty important.
Hit the Alps at full speed on a snowboard in Istunt 2 now. It's time to grind your way to a glorious victory!
How to Play
Arrow keys are to turn left/right and crouch.
Z and X keys are for tricks.
Popular Searches:
nu vot
istunt 2 miniclip
i stunt 2 game