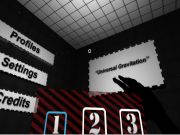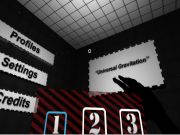 Come on! Grapple Universal Gravitation – a puzzle-based skill 3D game to discover your brain and intelligence while you are free, guys! There are incredible and severe challenges getting you shocked. Take a chance to taste its content now!
As soon as each player has access to the game, a weird world will appear in front of his eye. He is thrown at this place like a miracle. It's exactly a big challenge for him. He must get through all stages here to reach the surface. Make use of the supplied gimmick to take control of the universal gravitation so that the right path to leave here is found. It's better to catch all tools set everywhere since they are useful for this trip.
Don't mind giving yourself an occasion to test your puzzle skills, guys! Are you ready? Get involved in Universal Gravitation right away!
How To Play
Arrow/ASDW keys are to move.
The spacebar is to jump.
The mouse is to use the gravity.
Popular Searches:
universal gravitation games