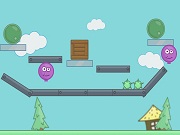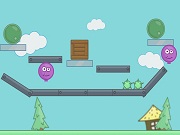 Continue the fun with Ballooner New Adventures, buddies. Featuring new levels, new unique puzzles, and a new character, this installment ensures to surprise the players with more risky missions.
Here, in the cute physics-based puzzle game, your major objective is to help the purple balloons float to freedom smoothly. There are a total of 24 unique, extremely exciting levels – can you clear all of them? In order to set the balloons free, you must remove the offered objects in each stage by using your logic. Destroy the glass blocks or pop the evil balloons with spiky stuff to rescue the good balloons. Complete the task as quickly as possible to gain a high score, or the points will decrease fast. As the game progresses, you'll encounter different types of balloons, like the TNT one, the neutral one, and the inflated one (new).
Pack your bags and set Ballooner New Adventures immediately. How many points will you get in this game?
How to Play
Use the mouse to break glass blocks.
Popular Searches: