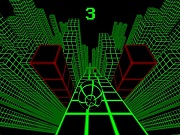 Are you looking for a game giving you much fun and action?
Why don't you try Slope Webgl? With just a click, you will get a chance to explore a neon world. However, things won't stop at that yet…this game asks you to control a shiny ball without letting it be off the track.
While navigating, you should stay away from all the edges and try to run as far as you can in this addictive 3D endless-running game: Slope.
Instructions
Again, if you are a big fan of skill games, then Slope Webgl is surely the best choice for you, guys.
Right now, you're standing in a vast 3D-graphics world. Feel dizzy with all the neon lights here? What you have to do in this place? Once tapping Start, you will maneuver an auto-running ball – it's your job to lead it through all tunnels as well as tracks full of slopes.
Steer the object precisely while it's rolling from platforms to platforms in order to avoid a variety of obstacles (e.g., red blocks). The roads are extremely narrow; thus, make sure you keep the balance well. The moment the ball fall into the abyss, the game will be over immediately.
In addition, do you know what the most interesting part of Slope Webgl is?
As the game progresses, the rolling speed of the ball will gradually increase up to the point that you cannot handle it. This brings more incredible challenges to anyone who plays Slope.
So, your chief objective in the running skill game here is to attain the farthest distance for the highest score.
Features
The neon-styled graphics is really eye-catching.
The speed between each stage changes quickly and unpredictably.
There are multiple obstacles along the slopes (roadblocks, treacherous pits and red walls).
The Leaderboard shows the list of best players and your score.
This game is available in full-screen mode.
Developer
Slope Webgl is a product developed by Rob Kay – the gaming developer of website Freegames66.com.
Platform
Slope Webgl is a Unity3D game applied the WebGL technology that can be played in any popular web browser.
Besides, you are able to play Slope on mobile via iOS or Android.
Controls
Use the left/right arrow keys to navigate the ball left/right.
Walkthrough
Slope Webgl is surely a fun game that players of all ages can experience. Unfortunately, some website block this game so still many of you can't really know how amazing it is.
Luckily, you are able to enjoy this unblocked game at slopegame.com. Our game site is reliable and comes with many interesting games that you can savor at school, work, or anywhere you wish to…All you need is just to access our website and have fun.
If you would like to try a similar game, give Roll Ball a try!
Don't miss a chance discovering Slope Ball 2 to see what's new in the second chapter!
Popular Searches:
slope webgl
Slope no webgl
slope unblocked no Web-gl
Essaytyper Unblocked language:en
Slope game no webgl
Slope game unbloked not webgl
Slopegames that supports webgl
slopewebgle
webGL Slope