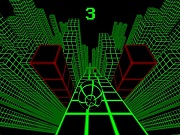 Are you a fan of games full of thrilling moments and unexpected surprises?
If yes, then don't hesitate to try Slope Unblocked, an ultimate running game!
This time, you really face a really hard challenge, players. Slope requires you to put in much effort as well as skills for the success. Fly through the 3D world and dodge over blocks and other obstacles in order to stay alive as long as possible.
Get ready to show off your ability? It's time to set your record!
Take control of the ball; then guide it across complicated circuits by making sharp turns.
How to Play Slope Unblocked?
Of course the main goal in this slope hacked game is to pass a hard journey in the mad 3D land together with a neon ball. There is no limitation or no restriction in each level. All you need to conquer is to progress over 1000 levels continuously.
Will you get closer to last levels?
Slope​​ Unblocked comes with a very simple gameplay yet still challenging, plus a fascinating look. The neon-styled graphics will cause great confusion if you don't really concentrate on the screen. Once setting foot into the neon city, please observe the direction of your ball carefully.
Just a small mistake can send the sphere down to an abyss.
Besides, avoid all the red walls if you don't want to start the game all over again.
Features
The graphics with neon style brings a fascinating look.
Unpredictable speed between each level will alter all of sudden throughout your progress.
A variety of obstacles, such as blockades, red blocks, and treacherous pits, are displayed along the roads.
Keep track of the Leaderboard to track your highest score.
Play Slope Unblocked in the full-screen mode.
Developer
Slope was created and developed by Rob Kay S, who has been running an online gaming website: slopegame.com
He also published other cool games, such as Jetpack Rusher, Rooftop Snipers, etc.
Platform
Slope Game Unblocked was built on the Unity3D platform. Plus the WebGL technology allows players to enjoy this game in your web browser without any trouble.
In addition, Slope now is also available to download via iOS or Android.
Controls
LEFT arrow is to move left
RIGHT arrow is to move right
Slope Game Unblocked
Anyone can try Slope as it's a fun, addictive game of all ages. The problem is – many places (esp. schools and offices) block this game; thus, don't be surprised if you are unable to play it.
Fortunately, you can still play Slope Game Unblocked at school if spending time on slopegame.com. In this reputable site, both members and guests can relish all unblocked games like Slope even in school or any public place.
Since there's nothing blocked here, just access our website and have great moments.
Walkthrough
Try this Slope Hacked Unblocked Game from today, guys!
If you do find this game is amazing, don't mind check out Slope Ball 2 – the sequel.
Or in case you seek similar games, I recommend you to try out Curve Ball, Roll Ball, or Gunball Reloaded. Much fun here!
Popular Searches:
slope game unblocked
slope unblocked google sites
sloup game
cookie duck slope
hacked slope
slope neon unblocked