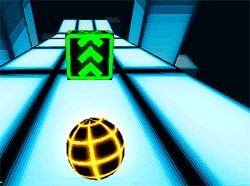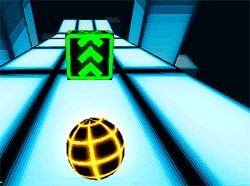 Slope is back again in Slope Multiplayer!
If you're a huge fan of Slope the classic game, then don't miss out this incredibly exciting version. This time, the multiplayer mode allows two players to challenge each other in the neon world.
Control the ball, dodge obstacles, and achieve high score for a success.
What is waiting for you in this newer version? Will you be able to beat all of your friends and become the ultimate champion? Let's find out immediately!
Instructions
Your mission today is to run as far as possible and collect as many points as you can for the win. In Slope Multiplayer, you're asked to control a yellow neon ball on an extremely sloppy platform featuring lots of barriers.
Balancing the ball is super important because the game will end if your ball collides with any block or falls off the dangerous abyss. The difficulty will be more and more difficult, so use your skills to complete all the levels precisely. While steering the object, don't forget to grab boosters to upgrade the speed.
How to play?
Steer with arrows, AD or QD
Walkthrough
Playing with a ball has never been that exciting. Navigate the bouncing ball, collect blue gems for points, and reach the finish line before your opponent. Hope you have a great time with Slope Multiplayer!
Don't hesitate to challenge your friends in this racing type of game.
Also check out Slope 2 Rolling Ball 3D, Death Run 3D, or Run 2 as these games have similar gameplay with your favorite Slope Multiplayer.
Popular Searches:
slope game multiplayer
slopie multiplaiers