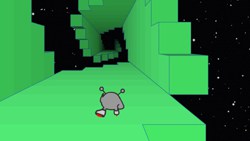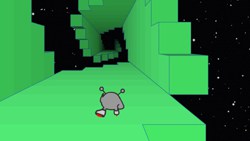 The adventure in the 3-dimensional world continues in Run 2!
As expected, Run 2 is the sequel to our classic, popular Run game, featuring simple yet irresistible graphics and other upgrades. With the second version, more game modes and challenges are added to test players' skills in a higher level.
This time, you need to concentrate and memorize harder to become the ultimate champion.
Either a running alien or a skating alien, make your selection and begin the journey in this endless runner game instantly.
Instructions
The objective in Run 2 is very clear: run or skate through space tunnels though all levels. Don't fall off the platforms or you have to restart. Make contact with walls as they can rotate 90 degrees. Remember to move wisely to avoid holes and gaps ahead; otherwise, you already know what will happen after that.
If the game is too fast for you, then hit Pause and adjust the frame rate.
Platform
This flash game can be played freely in any browser; however, you need to install Flash in order to relish it.
How to play?
Use the left and right arrow keys to either run or skate
Hit spacebar to jump
Press P to pause and R to reset the game
Please note that Run 2 allows players to change the game controls.
Walkthrough
Run, jump, and score as many points as possible in Run 2!
In my opinion, Run 2 is the best but both Run 1 and Run 3 are still worth your experience. Thus, if you haven't played the prequel and sequel of Run 2 yet, quickly click and enjoy the excitement!
Popular Searches:
slope run 2
run 2
Slope Run Game
run 2 html
play run 2 html
slope run 2 game
slope run game 2
slope run2