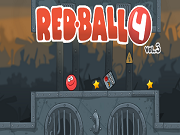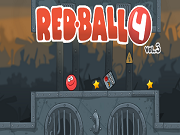 Finally, it's time for the final installment – Red Ball 4 Volume 3 – to the hit Red Ball 4 series. New place, new mission, and more obstacles: all are available in this amazing chapter.
Don't hesitate to discover it now, ok? Here, you and the red ball will travel to a deadly factory surrounded by dangerous robots, ultimate enemy squares, and more terrified creatures. Will our character, once again, save the universe from turning square? It all depends on you, players! Guide it to roll and jump everywhere to confront the enemies and avoid laser beams in the process. Don't collide with anything in this place or the red ball will die right away (he only has three precious hearts). Once facing the wicked blocks, what should you do? Simply stamp on them and go along the way.
During the journey in Red Ball 4 Volume 3, you must collect all the gold stars to achieve a high score.
Tap WASD or the arrows to move and jump.