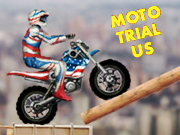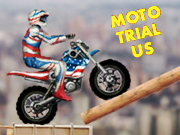 Hey, guys – join with us in the most exciting motorcycle trials tournament; this time, it takes place in USA. Quickly access Moto Trial Us and become a part of the mototrial championship.
The goal you have to perform in this addicting racing game is to race as fast as possible. There are a total of 12 races; try to master all of them perfectly to show the world that you are the best of the best moto-racers. The US version offers lots of obstacles like slopes, crates, wooden ramps, and other barriers – riding over them all without losing your balance. Don't miss a chance getting the airtime for a performance full of awesome tricks to gain bonus. Significantly, beating the opponents who came before you is a MUST.
Can you conquer all the stages in Moto Trial Us? Tune your motor before each race for a maximum performance.
How to Play
Drive moto with WASD or the arrows.
Accelerate with Q/K and brake with Spacebar.