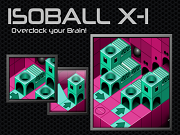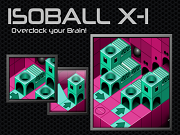 Are you good at solving puzzles? Here, in Isoball X1, we're dealing with lots of tough challenges, and only you can help us finish everything. Don't ignore us; instead, show us your ability!
Once traveling to this isometric puzzle game, the players will be offered a full pack of 36 tough levels to carry out. What's the chief task here? Your goal, in each stage, is to guide the black ball to the exit hole perfectly. How to perform? Let's take a look at the bottom! Different materials are available for utilizing, such as blocks, arrows, ramps, bridges, triggers, elevators, and more. Build a smooth, safe path (by making use of the above pieces) to navigate the isoball into the fixed hole without falling or breaking. Click the blocks if you want to rotate them, remember. Though the game starts off easy, it soon becomes more complex later.
Be wise, sharp to complete the challenging level pack in Isoball X1. Good luck!
Interact with the game by availing the mouse.
Popular Searches: