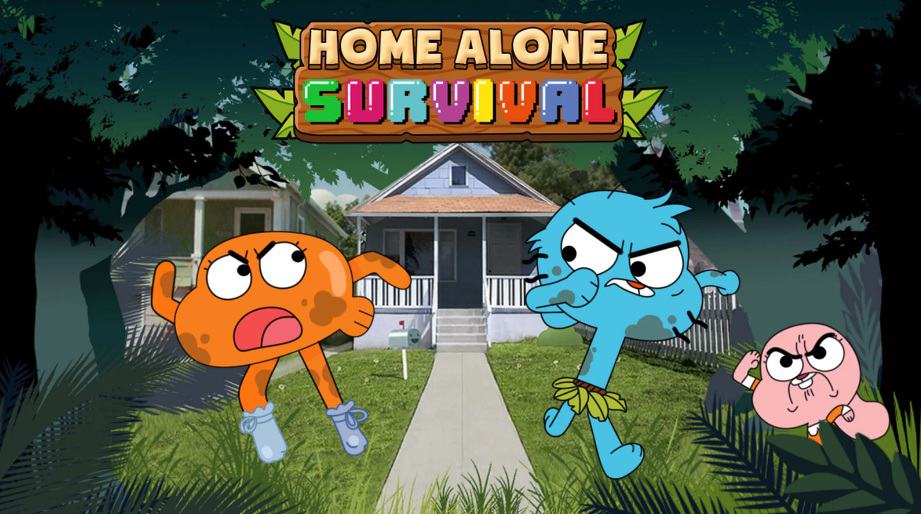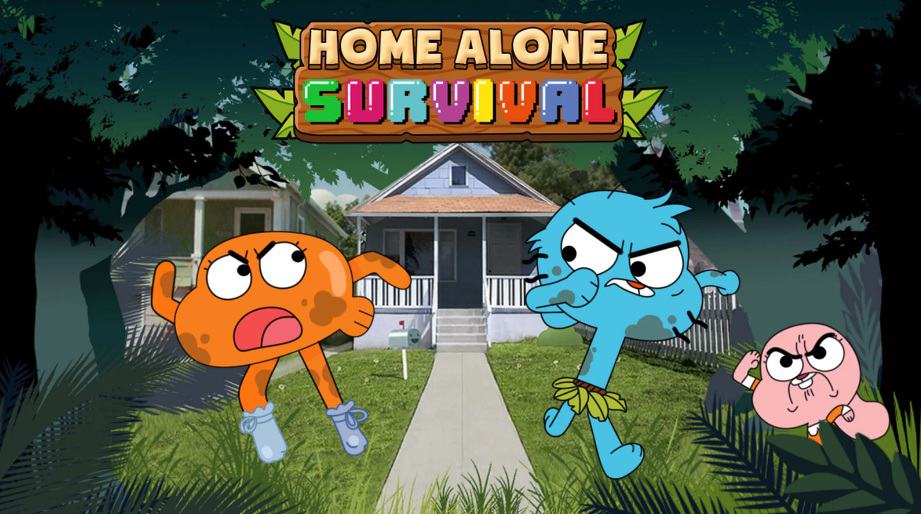 What challenges are awaiting you in Home Alone Survival?
If you're a big fan of Cartoon Network, then you'll surely know all the characters here. Based on The Amazing World of Gumball, this online game tells a story of Gumball, Darwin and Anais when their parents are away from home.
Unfortunately, the apocalypse occurs all of sudden and now they need to survive until their mom and dad return.
Will all three of them survive being home alone?
Let's get started and find the answer!
How to Play?
Once the game begins, you will take control of Gumball and go searching supplies around the house. Take a look at the bushes, the rug, or the totem. Use all collected items to build a tent, a medicine room, an arcade game, a bonfire, and other necessary things!
Keep track of 2 meters on the top and bottom:
The top one shows how far the parents are from home.
The bottom one shows Gumball's condition (health, hunger, boredom, and inventory)
Avoid rooms that have Darwin inside, or he can shoot you if you're slow. It costs you one half of a heart for a shot. Be careful! Darwin can also steal something from your inventory. Feed yourself with food you found to boost your strength and become the survivor in this cool adventure.
Features:
Fun survive game of exploration and crafting
Cool story with challenging missions to discover
Nice graphics and addictive gameplay
Intuitive controls
Release Date:
It was currently added on October 12, 2021.
Platform:
Play it using the web browser.
Developer:
This game was published by Cartoon Network Games.
Controls:
Move with the arrow keys
Punch or interact with others using Z
Eat with X
Select or drop items with the left mouse
Walkthrough:
Make sure to take care of both your life and food ration, or you'll lost the game if you run out of energy. Do you think you have what it takes to survive? Enjoy playing this game here at slopegame.com!
If you like adventure games, also try Fireboy and Watergirl 6 and Ninja Run.