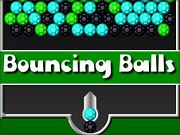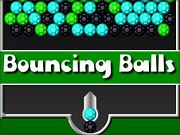 Here comes an interesting classic bubble shooting game, called Bouncing Balls. Your goal, in this game, is to clear all the balls in each level for a high score. What are you waiting for?
In order to remove all the balls from the game board, you need to form groups of 3 or more balls of the same color. As the game starts, multiple rows of colored balls will slowly move downward from the top. Look at the bottom and you'll find a launcher that has a ball inside. Adjust the launcher's direction, and then click to shoot the ball – if the ball forms a group of a least 3 balls of the same color, that whole group will be destroyed. If you can clear a larger pile of balls, you will earn more points. Your score is recorded at the top-left corner of the screen. The game will end if you can't remove all of the balls before they reach the bottom of the play area.
For sure, Bouncing Balls is an exciting game for both kids and adults. Prepare to be seduced and get addicted to it!
How to Play
The mouse is to aim and shoot a ball.