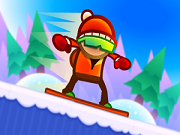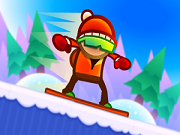 An avalanche is coming after you – quickly get out of its way before you get buried and earn the title Avalanche King. There will be no escape if you don't go downhill, so it's time to ride on your snowboard and take action.
Rule the snow in this fast-paced snowboarding game, guys. Take control of the in-game character and help him slide down the snowy mountain as far as possible. Jump from one ledge to the other and try not to fall off. Collect all the gold coins on the way and perform spectacular flips and tricks to get a high score. Watch out for the rocks and do not let the avalanche catch up with you. This game contains many cool achievements – play hard to unlock everything. Can you break all your distance records and set an incredibly new one?
This snowboarding game will test your reactions to the max. Play and see if you can become the Avalanche King and stay balance despite the attack of the snow wall.
How to Play
Tap Left mouse – W – Up arrow – or Spacebar to jump.