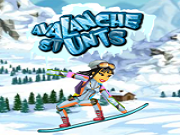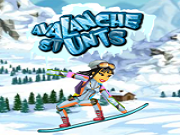 Nothing can make your adrenaline running formidably but snowboarding on…an active avalanche. Go to Avalanche Stunts and perform wild snowboarding tricks to show your professional skiing skills.
As a master of skiing as well as snowboarding, you love challenges and risks. This time, you've reached the most treacherous slopes on Earth. Are you ready to deal with the way-much-harder difficulty here? Step on the snowboard and ride downhill as fast as possible while doing incredible tricks and stunts. Get massive air and avoid awkward landings because you have to reach your helicopter before the avalanche engulfs you. Jump over pits and keep yourself away from ice spikes; otherwise, your riding speed will be slow down. Collect all the coins on your way for new equipment, remember!
Finish the race in Avalanche Stunts for a win. You can choose between Tour Mode and Survival Mode to play.
How to Play
Hit the arrows to balance and flip, jump, and duck.
Use X and C to grab the snowboard.