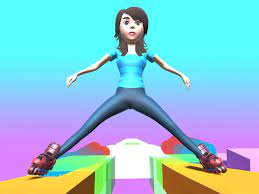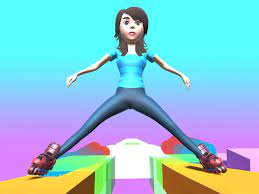 Here comes a new adventure waiting for you!
Wear your rollerblades and run to Shift Run now! In this challenging journey, you will take control of a skillfully skater who is going to challenging her skills. The Olympic tournament is coming soon, so she urgently needs your help, players!
Become her company and help her move on buildings' roofs in the city. Are you up for this mission? If yes, come on! 
How to Play?
Maintaining your balance is everything while roller skating, and it's also the key to conquer all requests in Shift Run. As the professional athlete, you already got the basics, so let's get into more advanced tricks.
The objective here is to complete each level by reaching the finish line through an obstacle track. Engage in the fun activity and show off your skills as a pro! Your character will move automatically. In order to pass through obstacles, it's necessary to  position her legs correctly.
Make her open their legs wide or close them based on the obstacle you're facing.
Take a look at the level progress bar. If you collide with an obstacle, your balance will be broken and affects your journey. You can buy upgrades to your speed with speed boosters.
Features:
Fun addictive hyper casual game
Colorful 3D graphics
Entertaining gameplay
Multiple challenging levels
Suitable for all ages
Release Date:
This game was released on December 5, 2019.
Platform:
Play Shift Run for free on both desktop and mobile.
Developer:
Web Games released Shift Run.
Controls:
Tap space or left mouse to shift.
How far can you go?
Put on your rollerblades and have fun in Shift Run from today!