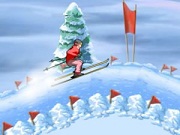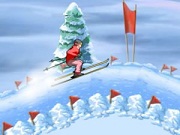 Looking for an intense, action-packed ski sports game? Then Nitro Ski will be the perfect choice for you, game-addicts. Take on 10 increasingly challenging ski slope levels to test your skills now.
In order to conquer this game, you need to possess brilliant balance, perfect poise, and super skiing skill. While riding down the slope, it's a must to perform crazy stunts and tricks for high score; also, grab coins to purchase better equipment and upgrade advanced abilities. Staying firmly on your skies, your chief objective is to reach the finish line before running out of time (within 60s). After the mid-air flips, make sure to land exactly on your skies; otherwise, you are forced to back to the start of the level or to a checkpoint (if you've passed by one already).
Can you complete all 10 levels perfectly in Nitro Ski? This game features awesome jumps, challenging climbs, etc. – have a great time here!
How to Play
Adjust the speed with WS or Up/Down arrows.
Jump with Spacebar.
Do tricks with 1-5 keys.