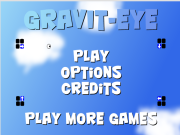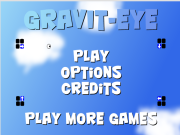 Have you ever heard about Gravit Eye? It's regarded as a stimulating physics-based platform puzzle game. As seeing, its graphics is not colorful, its structure and gameplay will fascinate you for sure. There is certainly no reason to neglect it, players! Enjoy it now!
As you can observe, each level of the game has many platforms, a white object called Gravit eye, and a target. You are wondering what a player can do here? The answer is to lead the eye to the target by cleverly moving him along the platforms. Generally speaking, reaching the only target is the ultimate aim during each of the levels. Be clever and skilled to jump platform to platform until the eye comes to the destination safely.
Come on! Are you fully prepared to jump in Gravit Eye? Go with the eye now!
How To Play
The X key is to jump.
The arrow keys are to move.