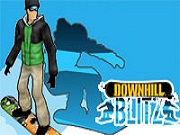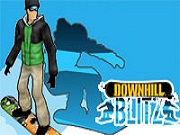 Are you a big fan of 'ski and snowboard' games? Then spend your spare time jumping into Downhill Blitz to savor the chilling moments when racing down the dangerous snowy slopes.
Get ready to conquer the mountain? In this winter sports skiing game, the players will have a chance to prove their snowboarding and skiing skills. Equip yourself with advanced equipment and quickly take on the challenge. Ride your skis down the hill as you jump and perform crazy stunts while dodging obstacles. Make use of the ramps for special vault and grind on the rails. Move at high speed and expose all the fascinating tricks to earn points as the levels will advance up to bigger and better hills. Try hard to reach the end of the track as quickly as possible.
Simple controls and addicting gameplay, Downhill Blitz is definitely a great game that's hard to put down.
How to Play
Arrow keys are to accelerate, break, and steer.
Spacebar is to jump.
Hit C to perform tricks.