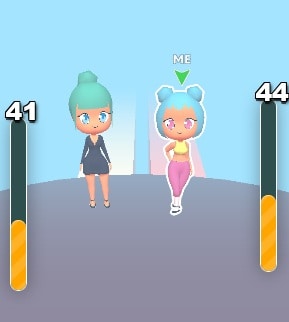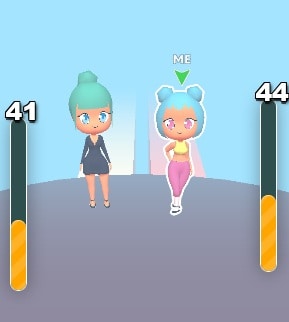 Walk down the catwalk while selecting outfits matching the themes.
Catwalk Battle is a super fashion game in which you need to create your best style and win each level. You'll race against other opponents. Reach the finish line and your fashion sense will be judged. Try to achieve higher points!
If you're a fan of dress-up or fashion games, then you can skip this one. Simple yet addictive gameplay and various themes, let's enjoy Catwalk Battle now and come up with your own style.
How to Play?
All kinds of outfits and styles are waiting for you in Catwalk Battle!
In this game, you'll take control of a cute model. Your objective in every level is to dress her up by giving her the best outfit. At the end of the runway, you must impress the judges and audiences in order to beat your opponent. There's a different theme in each stage, such as red carpet, Christmas, wedding, etc. If you want to attain the highest score and conquer the whole game, choosing beautiful clothing is not enough. The key here is to pick outfits suitable for a specific theme.
When winning over the opponent, you can kick them off the platform. The more levels you complete, the more outfits you will unlock.
What are you waiting for?! Start the game now!
Features:
– Stylish and adorable characters
– Well-designed levels and various themes
– Unique outfit collection
– Lovely 3D graphics
– Intuitive controls
Release Date:
The game was added on December 13, 2021.
Platform:
Play it on web browser (desktop and mobile).
Developer:
Catwalk Battle is published by Lagged.com
Controls:
Use the left mouse to interact.
Walkthrough:
Popular Searches: