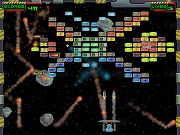 Are you seeking an Arkanoid classic game kind, all players? Take your time and participate in Star Ball, a funny break-out game. Let's see how many points you'll attain here!

The objective of this game is to complete all the levels and earn the highest possible score. You'll be given a ball and a paddle to perform the duty – try to break all the bricks in each level by using the bouncy ball. Once you complete the current stage, you will immediately proceed to the next one. In order to make the task easier, the players can pick up various power-ups; however, not all of them have good effect: some even add extra obstacles and some include both bad and good sides. Unlock more weapons like laser guns or missiles to quickly destroy the structures.

Star Ball is truly a very fun game to play. Challenging, interesting, and addicting – you will find everything in here.
How To Play
The mouse is used to deal with the game's objective.