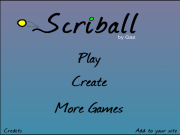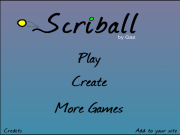 Oh guys! It's certain that you never miss Scriball – a skill and puzzle game. It's too fascinating that you must follow it from the start to the end without doubt. No time to wait! Taste it now!
As you see, in each level of the game, there are 2 kinds of ball; one is yellow, and another one is green. What will each player do with these 2 objects? Let's hit the mouse on many positions of the interface to bounce up the yellow ball and lead it to the green ball. In other words, the green ball is exactly the goal the yellow ball must reach. The player must come to note that lots of sharp traps are set everywhere to prevent the yellow ball from arriving at its destination. That's why he must be careful to avoid all of them.
Scriball is clearly challenging, but it's charming enough to interest the players' attention. Begin it right away!
How To Play
The left mouse is the main tool to guide the game.