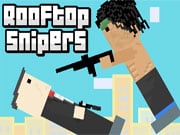 Are you afraid of participating in a crazy duel?
If the answer is no, then quickly enter Rooftop Snipers for the best shooting experience ever.
This is an interesting action-shooting game with 2 basic modes: one player or two players. Thus, you can choose to either play against the CPU or join in a battle with your friend.
For those who have played Soccer Physics or Wrestle Jump before, you will feel familiar with Rooftop Snipers as it is similar in style and gameplay.
In the game, you navigate a dummy and soon get involved in many different combats with other shooters. The objective is to shoot your opponent in each match until he is knocked off the rooftop.
Will you be able to achieve the ultimate win?
Let Slope Game tell you more about this awesome game!
Features
Two-button multiplayer game
Crazy music
One and two-player modes
A variety of different backgrounds and outfits
Instructions
Get ready to shoot some famous characters off of the roof, guys!
You will go head to head against the world's most famous heroes and villains including the Joker, Mr. T, and John Wayne in this old school action game. If you want to win, you must find a way to make your opponent fall off the roof in each duel.
With five successes in a row, you'll be the champion.
All you need to do in Rooftop Snipers are jumping and shooting. Make use of your shooting skills to knock off each opponent per round. Concentrate and adjust the right time for incredible shots while fighting on the rooftop. Aside from attacking, you are recommended to jump forwards and backwards to dodge bullets.
Look out for tomahawks and beach balls, meanwhile!
Surprisingly, the environment as well as equipped weapon will alter on each fight – the most fatal one is Bazooka.
Tag along with other shooters in the streets, on rooftops, and even on the tops of mountains.
Are you confident with your sniper skills?
Play well and you will be granted the title "Pro Player" in Rooftop Snipers.
The key is to try to survive longer than your opponent in a showdown at the top of a roof in this hilarious two-player game. As soon as the game begins, find chances to hit the opponent constantly to throw him away and become the winner of the duel.
Developer
To satisfy your curiosity, Rooftop Snipers is developed by Michael Eichler, who is also the creator of Getaway Shootout, Tube Jumpers, and Ping Pong Chaos.
Visit here if you want to savor all Eichler's games!
Release Date
January 2017
Controls
Player 01: Press W to jump and E to shoot
Player 02: Press I to navigate and O to attack
As I told earlier, this game packed with the 2-player mode allowing you to have fun with someone you have longed for.
Continually press and hold the button for shooting. Once you've saved enough money to upgrade your weapon, equip it into an advanced item which can make accurate shoots in all duels.
Walkthrough
What are you waiting for?
Invite your friend and play Rooftop Snipers together…such a chaotic two-button multiplayer shooting game.
If you want some more, then Slope Game recommends Modern Blocky Paint, a Minecraft-themed multiplayer shooter with the similar gameplay.