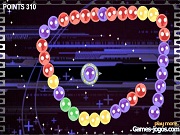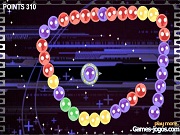 Are you sick of ball games? There's still a fascinating game that will capture your attention and make you forget the time; that's, Loca Ball. Be swift to land on the main screen for a self-dip!
In this puzzle game, the players are given a full pack of 18 fun levels. Have enough confident to finish this requested objective? Time to take action! Make use of the cannon (in the center) to shoot and remove all the balls before they reach the absorbing hole and disappear. Try to create groups of three or more same colored balls in a line, and then, aim the direction for the right spot. The more balls you destroy in one shot, the more opportunity to get new items and weapons. Use bombs to explode blocks as well as balls in a small area. Remain the fast speed is a need in this game!
Grab the mouse and enter the playing field to conquer the quests in Loca Ball. Can you win? Let's see!
Utilize the mouse to perform the mission here.