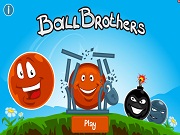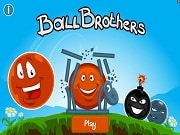 Have nothing to do at this moment, right? Don't be hesitant to give Ball Brothers great support. What've happened to them? Hit the Play button and figure out the story to help all the balls!
One of the red balls is trapped in a cage, and your mission here is to rescue it by assisting its brothers. How? In each stage, the players will take advantage of other balls in order to break the cage and clear the puzzle. Since all the brothers are a bunch of different types of balls (the Ordinary, the Bomb, and the Weight) who can give each other help. Use logical reasoning to make the object fall exactly on the cages to free the one that is stuck. Simply drop the balls from the top of the screen, and you need to succeed in the first time for high score.
Can't wait any longer, right? Together with Ball Brothers, let's give the trapped ball freedom back.
How To Play
Use only the mouse to have fun with this game.