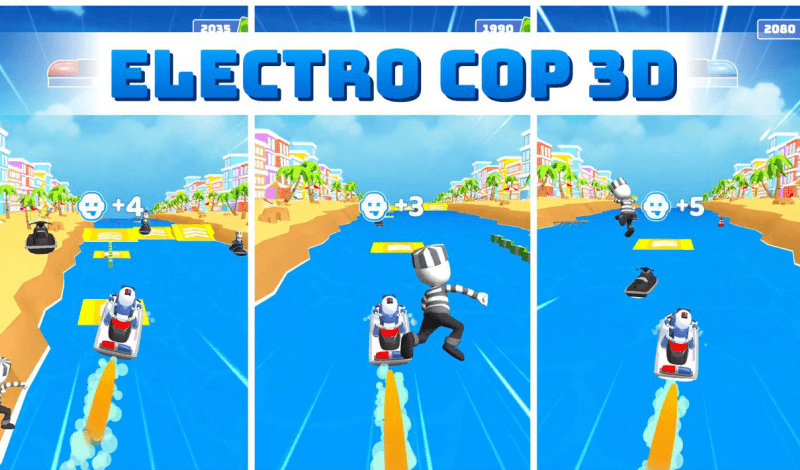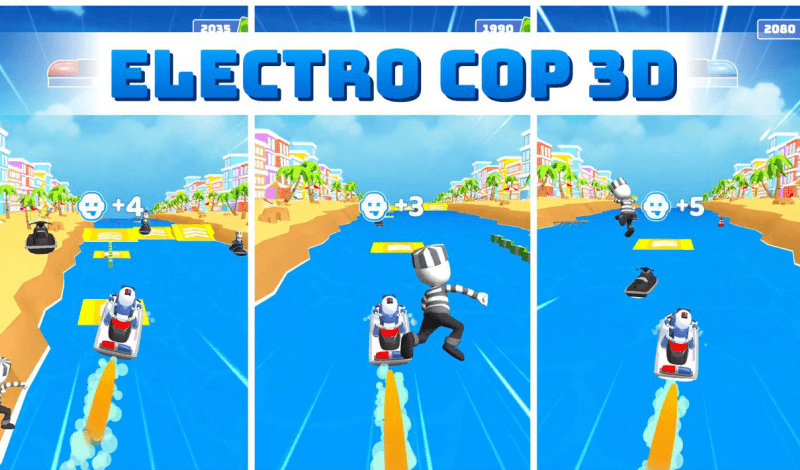 Electrical Cop 3D sends over a radio transmission!
A bank has just been robbed! Fill up your police jet ski with fuel and give the thieves all the chase they can handle! Your mission is to find every penny that was lost as fast as possible, and then bring it to the nearest bank.
It's an exciting adventure with incredible action and a thrilling race for survival. Don't hesitate to show us your capacity!
How to Play?
In the action-packed racing game – Electro Cop 3D, you take the role of a police officer pursuing bank robbers on a jet ski to take back all the loot.
While riding a fast jet ski, you have the chance to chase after a group of thieves that has just committed a robbery at a bank. You'll encounter a number of challenges as you travel through canals and rivers. Also drive through trampolines that can increase your speed. To outsmart the thieves and set a speed record, you'll need quick reactions and precise controls. As soon as spotting robbers right in front of his nose, quickly start the chase!
Use the boost platforms to catch them all.
Features:
Fun arcade game with robocop and robbers
Adventure on a high-speed jet ski
A variety of obstacles and trampolines
Fast-paced action with a thrilling race
Exciting gameplay
Release Date:
This game was released on January 28, 2023.
Platform:
Electro Cop 3D can be played on desktop and mobile devices.
Developer:
HYPE LLC developed Electro Cop 3D.
Controls:
Drive your jet ski with the left mouse / arrows / WASD.
Walkthrough:
Do what you believe to be right in Electro Cop 3D and become a hero to all the people of the city.