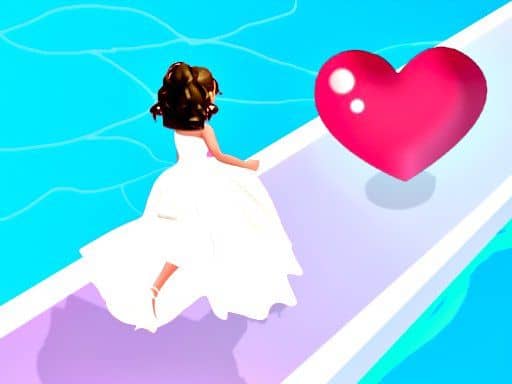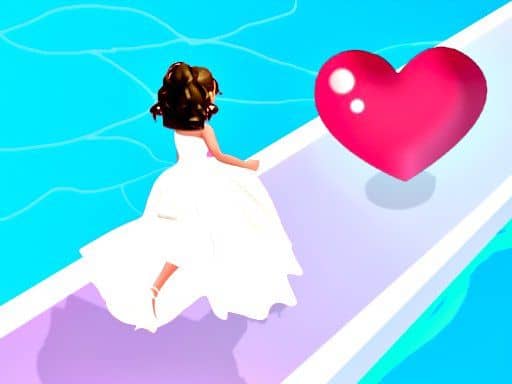 Experience your own wedding day in Bridal Race 3D!
People often think that weddings are sacred, splendid and beautiful, but they can also be fun. In this 3D arcade game, you will engage in a water race in which your objective is to reach your groom faster than your bridesmaids.
Don't let them steal your groom on your wedding day!
It's time to START!!!
How to Play?
When arriving to the main arena, you will see a long runway. Start doing your catwalk and collect as many bridal elements as possible, such as a wedding dress with matching shoes, a veil, a bouquet, etc. A little reminder – you're messy and smelly at the beginning, so try to better your look to impress your groom at the finish.
While moving and dressing up, remember to overpass all of your rivals and quickly rush to the destination where your handsome partner is standing there. Along the way, try to stay away stinky, dirty items. Be careful, don't fall down to the water, or one of your bridesmaids can steal your groom away and you will lose for sure.
Have a true love kiss with the groom to complete a level!
Features:
Fun 3D arcade game
A collection of bridal dresses and accessories
Various obstacles to challenge
Interesting gameplay with many levels
Suitable for all ages
Release Date:
The game was added on January 13, 2022.
Platform:
It's playable on all smartphones or tablets, such as iPhone, iPad, Samsung and other iOS and Android system.
Developer:
Bridal Race 3D was created by PL Studio.
Controls:
Navigate the bride with the mouse (left click and hold).
Walkthrough:
Run faster and try to be the first girl to reach the destination in Bridal Race 3D.