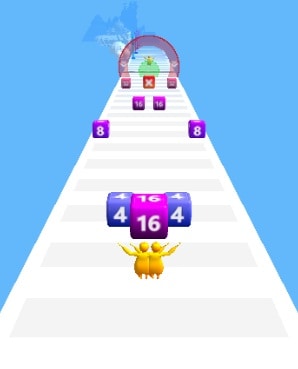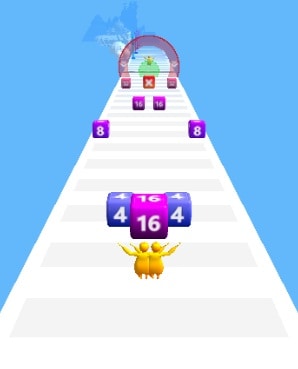 Game genres are often mixed together for more fun, and 2048 Parkour is an interesting result from this. It's a combination between parkour and 2048 puzzle, and it will surely double the challenge.
Your goal, when it comes to 2048 games, is to create a 2048 block before reaching the finish line.
Tap START and control the character to constantly move forward!
How to Play?
At the start, you will see two tiny characters showing up and you need to control both at the same time. Look, each person is holding a box with the smallest value. As I said earlier, the task here is to achieve the highest value which is 2048. How? Guide those runners to connect pairs of blocks with the same number so that they will get a new block with the bigger number.
Once reaching the finish line, they will deliver the blocks they have collected to the person standing outside the line, and his job is to distribute all the blocks further in order to exchange for diamonds.
While moving on the platform, make sure to dodge boxes with letter X, or your runners won't be able to continue the race.
Features:
Adventure arcade game with 2048 element
Math numbers and symbols
Dangerous red boxes to avoid
3D graphics with addictive BGM
Unique gameplay
Release Date:
This game was published on June 2, 2022.
Platform:
2048 Parkour can be played on mobile device and PC anytime.
Developer:
Y8 Studio developed 2048 Parkour.
Controls:
Make use of the left mouse to move left/right.
Walkthrough:
Enjoy 2048 Parkour with a click!