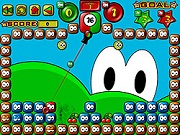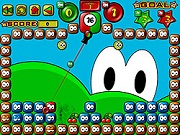 Know what, guys? An addictive, fun puzzle game called Zooz Ball is finally available for playing from today. Be ready to solve the difficulties here? Okay, don't waste time anymore!
This game provides five amazing worlds; and each consists of 15 levels, 5 end-level bosses, bonus stages, real-time leaderboard. Spending hours relishing everything and bouncing for fun! The aim that you need to carry out is coloring the bricks to have as many green & red bricks as in goal. Simply hit the blue bricks with red or green balls to change the color. Bear in mind, if bricks are hit by balls of the same color, they'll become blue again. On the contrary, a ball of the opposite color will destroy the chosen brick. Accomplish the quest in each level well for a high score; if not, please retry until you finish all the tasks.
Got the gameplay? What are you waiting for? Time to test your capacities in Zooz Ball!
Play this game with the mouse only.