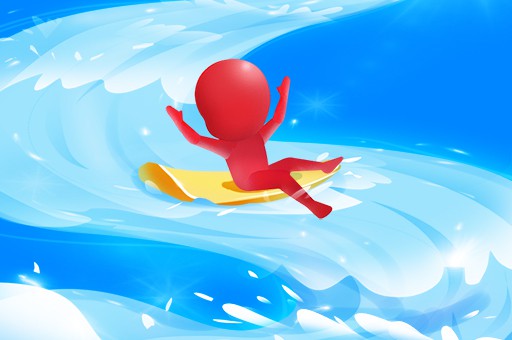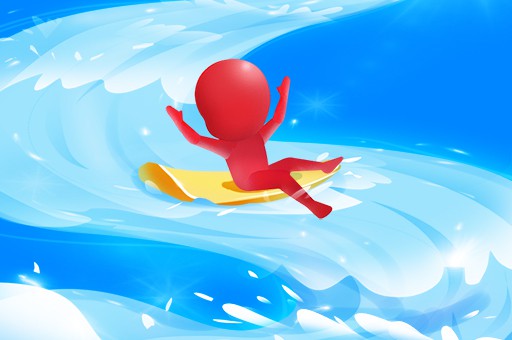 Engage in Aquapark Surfer Race for fun!
Have you ever tried surfing in the sea? Then, it's time to experience the fun of water skiing in this game! Take part in a water sliding race and compete against numerous AI opponents for the grand title!
Step on your surfboard and face the waves for real. Endure all the obstacles ahead to prove yourself as the best surfer of all time! Now come and try!
How to Play?
In this game, you will find yourself standing in the middle of an aquapark. What is the mission here? Play against many opponents in surfing on exciting sea slides and try to avoid obstacles. While surfing, you'll find many balls, grenades, and blockades stopping you the second you touch them. Simultaneously, collect sets of arrows to have a temporary speed boost and invisibility.
Try to surf faster than others and be the first racer reaching the finish line. Complete all the levels and gain coins so that you can buy a new nice skin for your surfboard. Make sure not to fall off the platforms or the game will be over!
Enjoy the breeze of the waves!
Features:
3D colorful graphics
Multiple levels to complete
Entertaining and addictive levels
Intuitive controls
Release Date:
This game was released on March 21, 2022.
Platform:
Play Aquapark Surfer Race for free on any of your browsers.
Developer:
YAD.com developed Aquapark Surfer Race.
Controls:
Drag the left mouse to move and dodge objects.
Walkthrough:
Can you be the champion and surf through the ride without colliding with any of obstacles?
Challenge now!