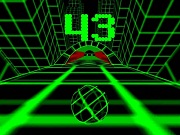 If you finished the task in the first edition, we highly recommend you to participate in Slope Ball 2 (the next sequel). Is there anything new? Let's set foot there and find out now!
In this game, the players will play a role as a green ball living in an isometric world. But, at this moment, you're getting stuck on the top of a strange hill. How to run away from here and find a way to return home? The major objective that you must accomplish is – controlling the ball to move as far as possible until reaching the end of the slope. Of course, it has to be alive; otherwise, you need to start the mission again. The entire environment is in green and 3D graphics that may cause you to be confused when playing. Be careful while rolling down the path…avoid falling off the platform or colliding with red walls and obstructive stuff.
How many points will you gain in Slope Ball 2? Much fun with this skill game, guys!
Control the object by utilizing the left/right keys.
Popular Searches:
slopeball2
slope2 game
green ball game slope
slope 2
slope 2 the game
slopeball
Game Stats
47,289 plays
Game Tags
graphic, platform, slope, slope ball, wall
Game Categories